Miss Warm Springs Tradition
The Miss Warm Springs tradition started during the centennial celebration of the 1855 Treaty with the Middle Bands of Oregon when a pageant was held to select the Treaty Centennial Queen. Atwai Kathleen Heath was selected in that capacity and is considered to be the first Miss Warm Springs.
It was not until 1969 when the first Miss Warm Springs pageant was held. At that time, atwai Dorothy "Pebbles" George was selected as Miss Warm Springs. Since then, the pageant has been held annually with few exceptions. To date, forty women have served as Miss Warm Springs, including the current titleholder, Keeyana Yellowman.
Cultural Ambassador
Miss Warm Springs continues to serve as a cultural ambassador for the Confederated Tribes of Warm Springs and as a role model for the community. She speaks at public functions in the community, regionally and nationally. Additionally, Miss Warm Springs attends local events like Lincoln's Day and Pi-Ume-Sha pow-wows, Museum at Warm Springs functions, other tribal enterprise gatherings, as well as regional/national conferences. Nearly all titleholders compete annually in the Miss Indian World or other national pageants.
While titleholders are expected to attend local events, there is flexibility for the titleholder to participate in other events including rodeos, leadership conferences and more. This provides the titleholder with the opportunity to craft her own experience which is especially relevant for those young women who are in college and pursuing specific career objectives.
Interested candidates and titleholders are expected to have a deep cultural understanding of the Tribes, including:
their history,
traditional foods,
food ceremonies, and
their own respective tribal ceremonies.
To be eligible, candidates must be an enrolled tribal member, 18-24 years of age, alcohol and drug free and never co-habitated.
The Miss Warm Springs Titleholders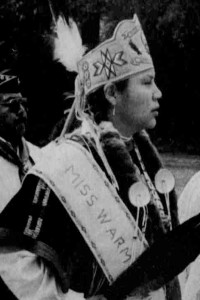 Who is Eligible?
Applicants must be 18-24 years of age and/or reach the age of 18 before the Miss Warm Springs Pageant.
Applicants must never have been married, cohabitated or have dependents.
Must be alcohol and drug free throughout the duration of her reign.
Be an enrolled member of the Confederated Tribes of Warm Springs and a resident of the reservation for at least one continuous year prior to participating in the Miss Warm Springs pageant.
Must maintain residency on the reservation for at least one year after she wins the title. If titleholder is current attending school, arrangements will need to be made with Committee regarding residency. In most cases, all titleholders are expected to reside on the reservation during the summer months.
Always maintain and present oneself in a proper and responsible manner throughout the pageant and reign.
If currently a student have good attendance and be on track to graduate.
Serve as an ambassador and role model for the Nation and making herself available to attend and participate in local, regional, and national conferences, events, pageants, and public relations functions scheduled by Tribal Council, the Museum at Warm Springs, and other tribal enterprises and programs when requested or scheduled by the Miss Warm Springs Coordinator.
Work with Coordinator to develop a schedule of activities for the year including participation in the Miss Indian World pageant. Travel will be done within the appropriated budget for Miss Warm Springs.
Titleholder is required to participate in fundraising activities to support travel expenses.
Provide quarterly written updates on activities to be printed in the Spilyay Tymoo and at least one annual update to Tribal Council.
If the contestant holds another title and selected to be Miss Warm Springs, she must attend and represent The Confederated Tribes as Miss Warm Springs if the Tribe is financing the particular trip or event.
If for some reason Miss Warm Springs cannot meet her obligations, her alternate shall represent the tribes for the remainder of the reign. The Miss Warm Springs crown and banner will be made available to the alternate to finish the reign.
Online Forms
2020 Miss Warm Springs Application
Applications are due February 28, 2019. Questions and completed applications can be emailed to Norene Sampson, Miss Warm Springs Coordinator, at norsampson@yahoo.com.